For over 25 years MusiCaps have helped audio engineers and music lovers achieve the ultimate level of performance from their designs. Among the most musically accurate capacitors available, MusiCaps provide a dramatic improvement in clarity, focus and dynamics when used in critical new designs, as an upgrade to existing tube or solid-state components, or in loudspeaker crossovers.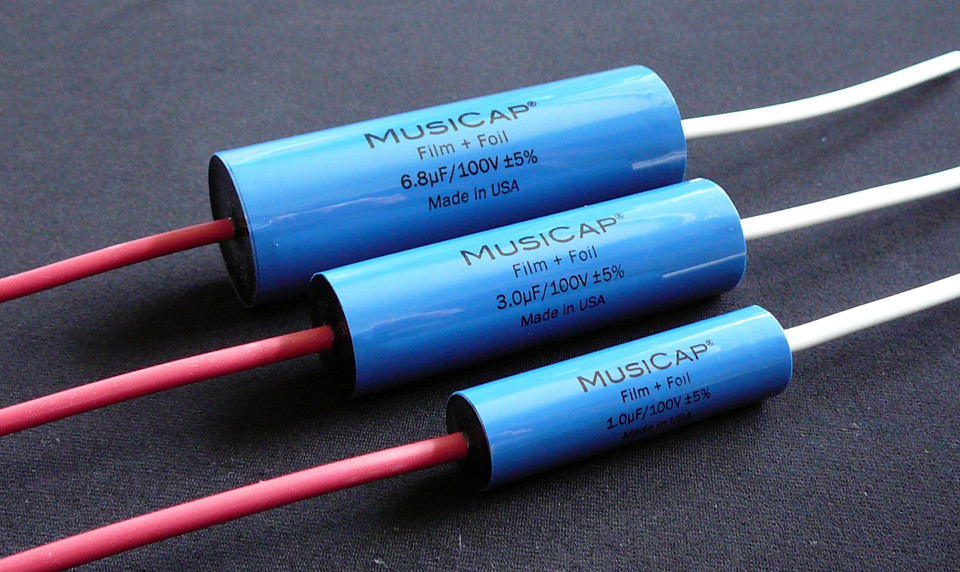 MusiCaps are constructed using separate layers of premium foil and polypropylene films, rather than vapor deposited, metallized film used in other popular capacitors. This time-tested film-plus-foil design requires a painstaking manufacturing process using more costly materials. (Film-and-foil capacitors do not self-heal the way metallized types do, so the dielectric films can not have any microscopic pinholes and the voltage ratings are more conservative.) Our construction techniques result in MusiCaps being approximately 100% larger than most metallized-film capacitors, yet the benefits are immediately discernible.
Critical loudspeaker crossovers deserve to have a transparent product specific to the application. The MusiCap line includes capacitors expressly designed for use in speakers. Speaker MusiCaps, with their thicker leads, are a revelation in well-designed crossover networks. While a fully MusiCap-ed crossover is supreme, just installing MusiCaps in the tweeter circuit will reveal much additional detail and nuance. Many prominent high-end loudspeaker manufacturers have been using MusiCaps in their top models for years.
UpTone MusiCaps — The component of choice when musical realism is your goal.